I LOVE to knit. I taught myself how to knit from a book called (a propos) I Taught Myself How to Knit. It came with a pair of size 8 needles, and a few nicknacks. Since then, I have been knitting like a .... well .... knitting maniac. I own a little online knitting business, and I am starting to actually venture out into knitting for personal pleasure. I just love it.
So .... here are.....
Thirteen Reasons Why Knitting Rocks

1. It is portable. Show me a scrapbooker who can take her craft to the bathroom to sit on the toilet for a bit, and I will show you a man with seven noses.
2. In what other craft can you talk about balls all day long, and not ever once get a dirty look? (balls of YARN ... get your mind out of the gutter)
3. You get to make fun things like this: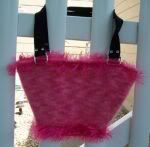 4. It isn't your grandma's afghans anymore, baby!
5. Seriously... what other craft can make this and get away with it (warning: if you offend easily, don't look!)
6. Needles CAN be used in self-defense situations.
7. You can honestly knit DURING a sermon. Just ask me. You just keep it in your purse, and you reach in and just start knitting away. It is easy.
8. People are always interested in what you are making, so it is an excellent conversation starter. Think about it: take some knitting to a bar, look like you know what you are doing, and you never know the people you will meet.
9. It teaches your children patience. "Mommy ... can we go outside now?" "Just a minute honey. Let me finish this one last row."
10. Knitting and driving: it should become an Olympic sport.
11. Yarn ... it seriously can be stored ANYwhere. So you can just keep on buying it.
12. Ribbing has nothing to do with a prophylactic.
and the 13th reason why Knitting Rocks: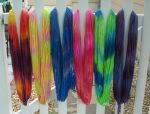 Who COULDN'T love this! THAT is knitting nirvana right there! (and not to toot my own horn ... but I dyed all of that yarn)