Sunday, August 26, 2007

Wish you were here

Dear Grammy:

We are having a swell time here in Findlay, Ohio. We have been swimming and playing in our hotel room and eating out of the vending machines.

Did we tell you that the first hotel kicked us out, even after they had told us that we could just add on to our stay if we needed to? I guess those Allstate insurance adjusters were just more important than our family.

Mommy and Daddy have been working tirelessly making phone calls and trips to the house. I have even heard Mommy say a few times that she is having a wonderful time. I don't know if she is being serious or not.

Yesterday, our Nana came to get us so Mommy could direct the crew from church while they threw away half of our possessions in a dumpster. It really is kinda cool to see everything that we had stored in the basement being chucked into a metal container.

The flood was really cool. We were rescued by a big orange dumptruck. Mommy made some comment about her coming into the white trash world in style. I have no idea what she was talking about.

So we will be staying at a hotel for another night, and then we have to find a new one because they might not have enough room for us tomorrow night, either. These darned out of town carpet cleaners and disaster response people. They are ruining my vacation.

I sure am sorry you haven't been here to see all of this. I sure hope that you enjoyed your anniversary trip to Dale Hollow. I know that Daddy really misses you, and wishes you could be here, but he understands that you have your priorities.

I have included some pictures from the fun days we have had. I sure wish you could have seen it all ... but I understand that your husband is more important than us.

I can't wait to see you in a day or so .... sorry to hear that your car broke down after your anniversary trip and before you could get up here. I'm not sure what she meant, but Mommy said that karma is a bitch.

Love, Queen Bee.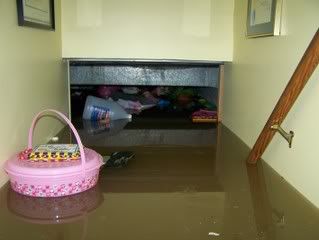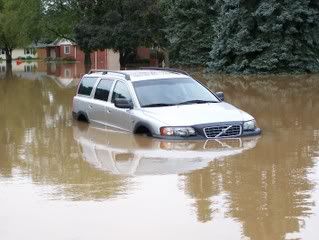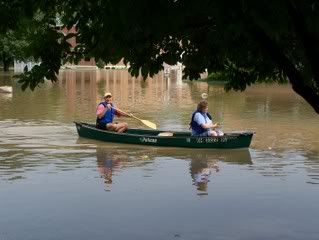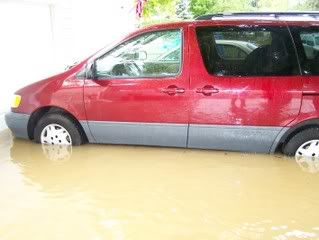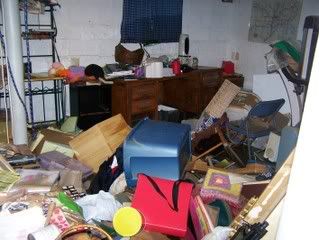 I'm a mom of three peeps ... Queen Bee, The Door Man, and the Chandelier Monkey, and wife to Ace, the Helpful Hardware Man. I created this space to get away from the people known as my inlaws, and because life with three kids and a hubby is all Unexplored Territory.



The nine-year-old who seems to be growing older every minute, has an opinion and a comment for everything, and has a true servant's heart.



The seven-year-old who loves the organization of things, will someday be someone's therapist because of his kind soul, and will more than likely be living with us until he is 40 years old.



The five-year-old with the 13-year-old attitude, who has a dictator's personality, asks you to watch her all the time and say "hold on" to keep your attention, and will someday come home on the back of some dude's motorcycle with 10 tatts and a body piercing or two.




The man of the house, the fixer of things, the winner of prizes, and the only person in his family to escape the South.

Flooding SUCKS!!!!
I love the smell of river water at 4 am
Those dreams again
As if he could endear himself ANYmore to me
Those phone calls you hate getting ... and a phone...
It's like they are speaking to me, man
Dreams
Making a choice
The new toy
I Heart Drake Bell